Steps to Purchasing a New Puppy
9 Steps to Purchasing your New Puppy from Denning Farms
1. Finding the Right Puppy
Select the puppy you want from one of several breeds.  You can learn more about them in our About (the breed) sections and then find out what is available or coming available in our Currently Adopting sections.
2. Confirm Availability
If you notice they are available on our currently adopting section, call Tricia at 319-931-3033 or email us at tricia@denningfarms.com. I will confirm availability and answer any questions you have about the puppy.
3. Payment Options
If you decide you have found the right puppy, your payment options are cash, Visa, Master Card and Discover.
4. Payment Details
a) If the puppy is less than seven (7) weeks old, we require a NON- REFUNDABLE deposit to hold your puppy in the amount of $400.00.  Again the Deposit is ABSOLUTLEY non-refundable!!
b) If the puppy is over eight (8) weeks old, we require the purchase price to be paid in full prior to delivery or pickup. If you decide not to purchase the puppy at that time. The $400.00 is still NON-REFUNDABLE. Please do not ask for you deposit back. I will not refund it. It is also non transferable.
5.  Arranging to Get Your Puppy
a) You must then decide whether you will pick-up the puppy or have it shipped to a major airport near you. I will gladly make all flight arrangements for your puppy's arrival. I will need to know what date and time works best for you.
b) If you are shipping on an airline I expect payment in full prior to delivery.  An airline approved pet carrier, and a Vet.  Certificate is included with the cost of the shipping.  Shipping Cost – $400.00 as of September 01, 2018.
6. Puppy Guarantee and Agreement Form
I will send along with the puppy, the puppy guarantee and the purchase agreement for you to read and sign upon arrival or pick up.
7.  Puppy Care Package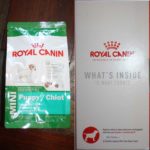 You will receive a free New Puppy Care package, including a Royal Canine Mini Puppy sample packs.
8.  Registration Papers
The puppy's registration papers (if available) will be given to you at time of pick up or upon arrival of the puppy.
9.  Additional Puppy Support after Purchase
I am available to answer any questions or provide support for your new puppy as he or she grows. You can call me or email me. Keep us updated on your puppy's progress. We are very interested. Don't forget to send pictures. Finally, ENJOY your new little puppy.